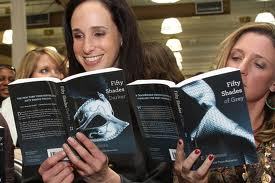 I'm reading "50 Shades of Grey," whispered the blushing 60ish woman waiting for her nails to dry at the salon. "What's it about?" I asked. "It's about a girl with an older guy who's into bondage and other kinds of S and M sex," she replied. "Sounds like my kind of book," I answered as I whipped out my phone to make a note of it. Shortly after that, I began hearing my friends discussing the book too. My friend, B downloaded it on her Kindle and began reading it on an airplane. She said she was so nervous the person next to her could see the large print, that she kept her arm covering it the entire trip. My friends' husbands and boyfriends all claimed not to have read the books, but somehow were able to discuss certain explicit scenes in graphic detail. Everyone started to buzz about the books – mothers were sharing books with their daughters. My 80-year-old mother-in-law read the entire trilogy. The president of our temple brought it up in his appeal for funds stating, "We spend money on things like, "50 Shades of Grey," which I'm certain every man in this room feels is money well spent."
What took women so long to start talking about their fantasies and kinky desires? Guys have no problem talking about how they regularly masturbate or how they fantasize about younger or older women. I have always been comfortable talking about sex with practically everyone - except my parents. I remember getting my first vibrator back in college. I proudly showed my sorority sisters the pointy nose and little rabbit ears on my pink vibrating toy. I found tremendous pleasure reading books written by authors like Nancy Friday about women's sexual fantasies. I gave copies to my close friends for holiday gifts a few years back, and although they rolled their eyes at me, I know they read them cover-to-cover. Sex is fun and talking about it is fun too. It's a lot more entertaining than discussing news, weather or sports. One of the main causes of divorce is sexual incompatibility. The first step to solving this problem is to talk about it.
People are afraid to talk about sex and what they want from their partners. I'm here to say, TALK ABOUT SEX! Bring it up at when you go out with another couple for dinner. Ask them if they watch porn together. They may be shocked to hear that you tried it, but later they may decide to give it a whirl. If something worked for you such as using a small bullet vibrator during sex, why keep it a secret? Let's keep the 50 shades revolution rolling and talk about sex. It's not a shady subject anymore!